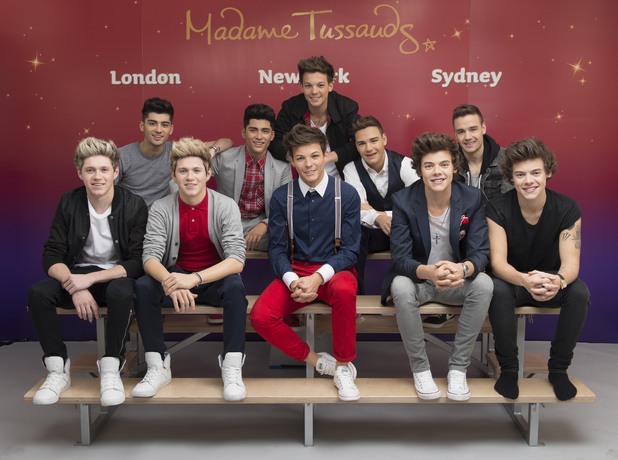 Pop sensations, One Direction, were the latest figures to be unveiled at Madame Tussauds London. Revealed for the first time in front of a small group of excited fans, the figures wear outfits donated by the boys themselves and sit casually together on a school-style double bench where fans can also sit right beside them. The figures will stay in London for 12 weeks ONLY (until July11) before embarking on a tour that will then visit Madame Tussauds New York and Sydney with more locations to be announced.
The boys were treated to a sneak peek of their finished wax figures at a secret viewing on Tuesday this week, before their latest gig in Nottingham. The boys were stunned by the likeness as they came face-to-face with their amazingly lifelike wax figures for the first time, Zayn commented, "They look wicked, they're bang on!" with Louis adding that he "can't wait for fans to see them". Niall was stunned at seeing his double, "It's really good, isn't it?! This is weird – he's wearing my actual shoes!" The boys were overwhelmed by the experience, Liam said, "This is definitely a privilege, getting a wax figure" and Harry agreed, "It's amazing and such an honour".
The group become the first boy band to be created by the legendary celebrity hot spot since The Beatles' figures in 1964. "We are delighted to be the first venue on One Direction's Madame Tussauds World Tour, and by the reaction of the fans today and the boys this week, it's going to be a huge success," said Nicole Fenner, PR Manager at Madame Tussauds London. "The demand for them in London has been staggering, as I know it has been in New York and Sydney where they will travel on to. In London we have created a special themed area where fans can immerse themselves in a whole world of One Direction. Most importantly they will be able to sit down right next to their heroes' wax figures, look deep into their eyes and ruffle their hair."
Each band member gave two sittings where the talented Madame Tussauds studios team took hundreds of precise measurements, examined their skin tones, eye colour and matched up hair swatches to ensure total accuracy. Finally, the boys personal hair stylist Louise Teasdale made the final checks and amends to the figures' hair to ensure total authenticity. A team of 40, including sculptors, moulders, hair stylists, colourists and wardrobe experts worked flat out for four months to create the figures which each cost £150,000 to make.
"It is always an extremely anxious moment when fans come face-to-face with the wax double of their idol for the first time," commented Principle Sculptor, Stephen Mansfield, who worked on Zayn's figure.  "After months of hard work this is the moment when you literally hold your breath in anticipation. But I don't think we could have hoped for a better reaction from fans today or from the boys themselves this week. We have had an awful lot of fun on this project. The band and their team have worked closely with us every step of the way and we are very happy to have put such big smiles on people's faces today."
The tour kicks off at Madame Tussauds London today and will remain in the attraction until July 11, 2013. US fans can see the figures at Madame Tussauds New York from July 19, 2013 where they will remain until October 11, 2013. And then it's on to Australia where the figures will reach Sydney on October 24, 2013 for a three month stay ending on January 28, 2014. Extra tour dates will be announced in the future.
TOP FIVE WAX FIGURE FACTS:
1.      The figure making process is the same as it was when Madame Tussauds herself began making wax figures well over 200 years ago – and It took a team of 40 sculptors four months to make the five One Direction figures this way
2.      As part of that process, real, ethically sourced hair is inserted into wax figures one by one by Madame Tussauds hair stylists in a painstaking process taking up to four weeks
3.      Once the figures have taken permanent residence in the attraction, a dedicated maintenance team sweeps the attraction every morning before the guests arrive to ensure they are in tip top shape – including checking clothing, hair and 'colouring' (paint!)
4.      Each figure made by Madame Tussauds costs £150,000 – so to make One Direction cost a cool £750,000
5.      One Direction are the first band to be created for Madame Tussauds London since we created The Beatles in 1964